Nine years ago, HRM sophomore Kayesha was pressured by her friends to represent her class in their college pageant. It was her first-ever crown. Then, she carried the CTHM sash proudly in The Search for Ideal Thomasian Personality 2011. She wasn't able to get the title but it was the beginning of her long journey in the world of pageantry. She became Miss Mandaluyong in 2012 and competed in Miss Manila 2014 where she placed third. After three years, Kayesha went for the Miss Bicolandia crown and won. Then, she moved forward to compete in national pageants such as Binibining Pilipinas 2018 and Miss World Philippines 2019 but fell short to represent the country in the international stage. After her stint in Miss World Philippines, her fans were encouraging her to try once more but it got her thinking to not go further.
"Once you give everything... Once you give your all to something pero hindi sayo binigay, it means it's not for you. Tinanggap ko siya kasi kapag ginawa mo naman yung lahat, madali yung acceptance. Move on na ko," she admitted. And so at age 26, the pageant veteran decided to settle down and focus on her gym franchise business instead.
[Once you give your all to something but you still didn't get it, it means it's not for you. Acceptance was easy for me since I know that I've done everything that I could. It was easier to move on.]
Then, a week after Miss World Philippines 2019, she received an invitation from Kim Poniente, the National Director of the Philippines in Miss Asia Awards. Her decision to put her sash and heels aside was final, but deep down in her heart she feels the desire to do it.
"It has always been one of my biggest dreams to represent the country," she confessed. "When your country's calling for it and if you have the chance to represent it, you should always say yes."
Kayesha took a leap of faith. She accepted Mr. Poniente's invitation and was appointed to represent the Philippines in Miss Asia Awards to be held in Vietnam with only less than a month to prepare. She sought the help of everyone because most of the designers and stylists were fully booked since it was pageant season. She was thankful that a friend of hers, a Thomasian from the Faculty of Arts and Letters, was able to introduce her to her evening gown designer.
"Nakita niya ko mag-grow sa lahat ng pageant na sinalihan ko at excited siya para sa akin. Gano'n talaga kapag Thomasian kasi, when you help each other parang hindi siya mabigat sa puso basta Thomasian to Thomasian," she said.
[My friend (from AB) have witnessed my growth in my pageant career and he was excited for me. Being helped by a fellow Thomasian feels good.]
With all the help and support she could find, she flew to Vietnam with Mr. Poniente to represent the country on the international stage and make her dream come true. A few days after they have arrived, Kayesha grew homesick. She can merely converse with the other candidates since most of them can't speak in English including her roommate which was from Russia.
"Napa-download ako ng Google Translate. Lagi naman may paraan. You always have your means, your ways, you just have to care enough. Lahat kami naka-Google Translate, nagkakaintindihan na kami hanggang sa naging close na kaming lahat," shared Kayesha.
[I've downloaded Google Translate. There's always a way. You always have your means, your ways, you just have to care enough. We are all using Google Translate so we could communicate and understand each other. It made us closer together.]
As the girls got to know each other together, Kayesha grew closer with Miss Nepal, Rubishka Shrestha, who have helped her overcome homesickness. "She told me she looked up to me," told Kayesha as she recalled her moments with her newfound friend. "How did you know me? I'm from the Philippines and you're from Nepal," she added. Shrestha told her that she has always been a big fan of Binibining Pilipinas. For Kayesha, this is proof that pageant fans all over the world have always had their eyes set on the representatives of the Philippines, and she is one.
On November 3 at the Holiday Inn Suites Saigon Airport in Ho Chi Minh City, Kayesha raised the flag of the Philippines and represented the country exceptionally. She was crowned as the Miss Asia Awards 2019.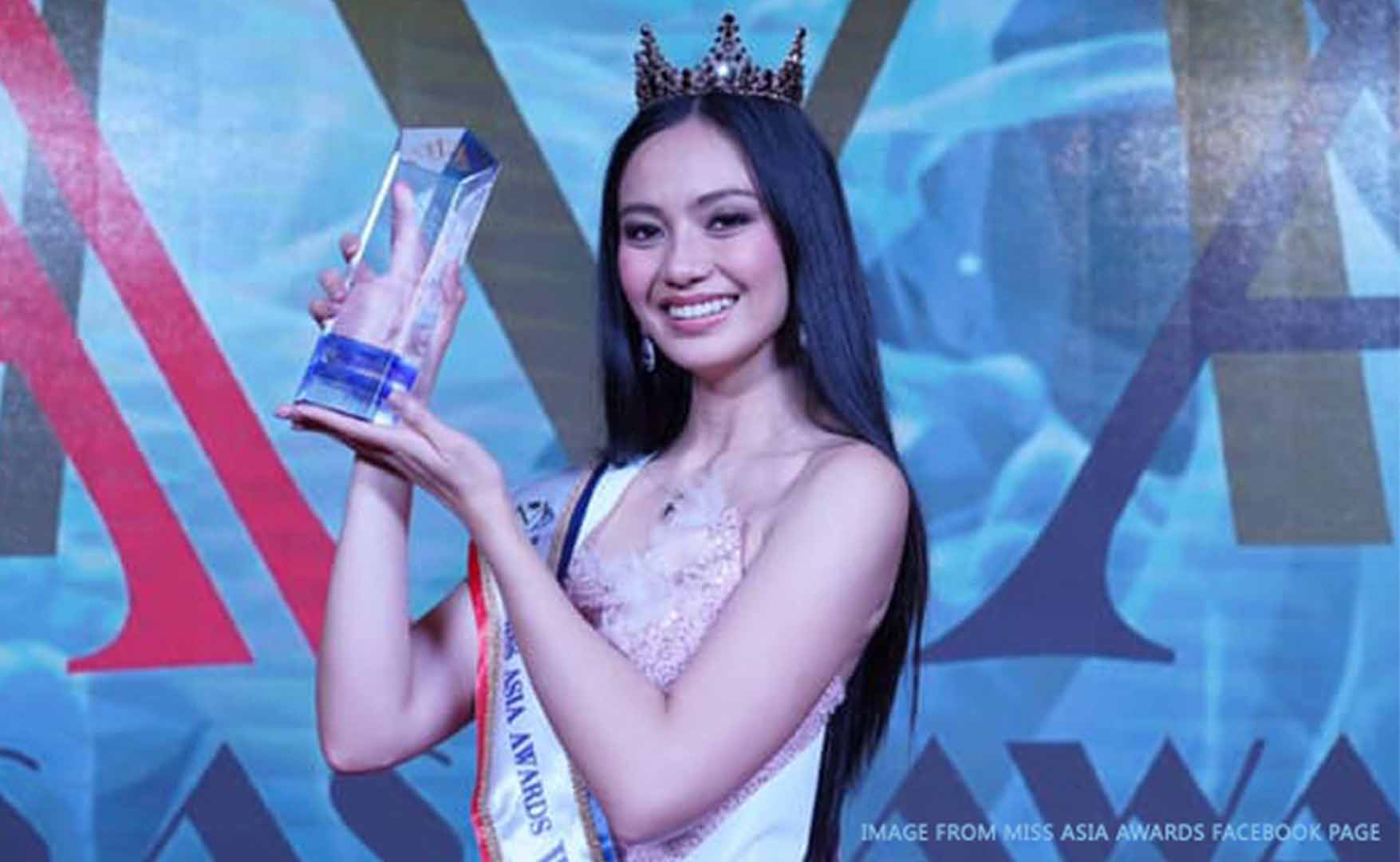 "Iyon na ang graduation ko from pageantry kasi nanalo na ko sa international. I'm contented with that kasi iyon naman talaga ang dream - to represent the country and to win," said Kayesha with a smile on her face. Asked about her plans during her reign besides from her responsibilities, she wanted to push through her purpose as an animal welfare advocate. With her victory from the pageant, she had obtained a larger platform to voice out and act on her advocacy.
Now at age 27, everything was a buzzer-beater for Kayesha-her last year to join pageants, her last-minute preparations, and her Miss Asia Awards crown. And just like in any tournaments and games, buzzer beaters are the best thrilling and heart-stopping moments in a competition. As she finally concludes her journey as a beauty queen with a full heart and a fulfilled dream, she feels grateful to her alma mater that paved the way to her long and fruitful pageant career.
"Dito ako nagstart sa UST," said Kayesha. "Kaya talagang isang tawag lang ng UST, lagi akong pumupunta," she said referring to the UST Office of Alumni Relations' request to have an interview with her right after she won the Miss Asia Awards 2019.
[I started (my pageant journey) here in UST. That's why with just one notice of UST, I ensure that I'm always going to be there.)