Three years after the initial Rector's Cup, the leadership of UST's annual alumni golf competition has now been passed on to the next tournament director.
On the afternoon of the fifth of October, the official turnover ceremony of the Rector's Cup was held at the Chairman George S.K. Ty Hall of the Thomasian Alumni Center.
Present in the event were outgoing tournament director Adrian Paolo R. Laurel, MD, incoming tournament director Engr. Ronaldo Fernando, Institute of Physical Education and Athletics regent/director Rev. Fr. Jannel N. Abogado, OP, Office of Alumni Relations director Asst. Prof. Fredeswindo R. Medina, MACHS, UST Alumni Association Inc.'s treasurer Ms. Teresita Meer and chairman emeritus Dr. Robert C. Sy, Science team captain Dr. Elvis C. Llarena, Accountancy team captain Nelson Tan-Afuan, organizing committee member Asst. Prof. Rodolfo S. Olaso, the team captains of the different sports events and their coaches.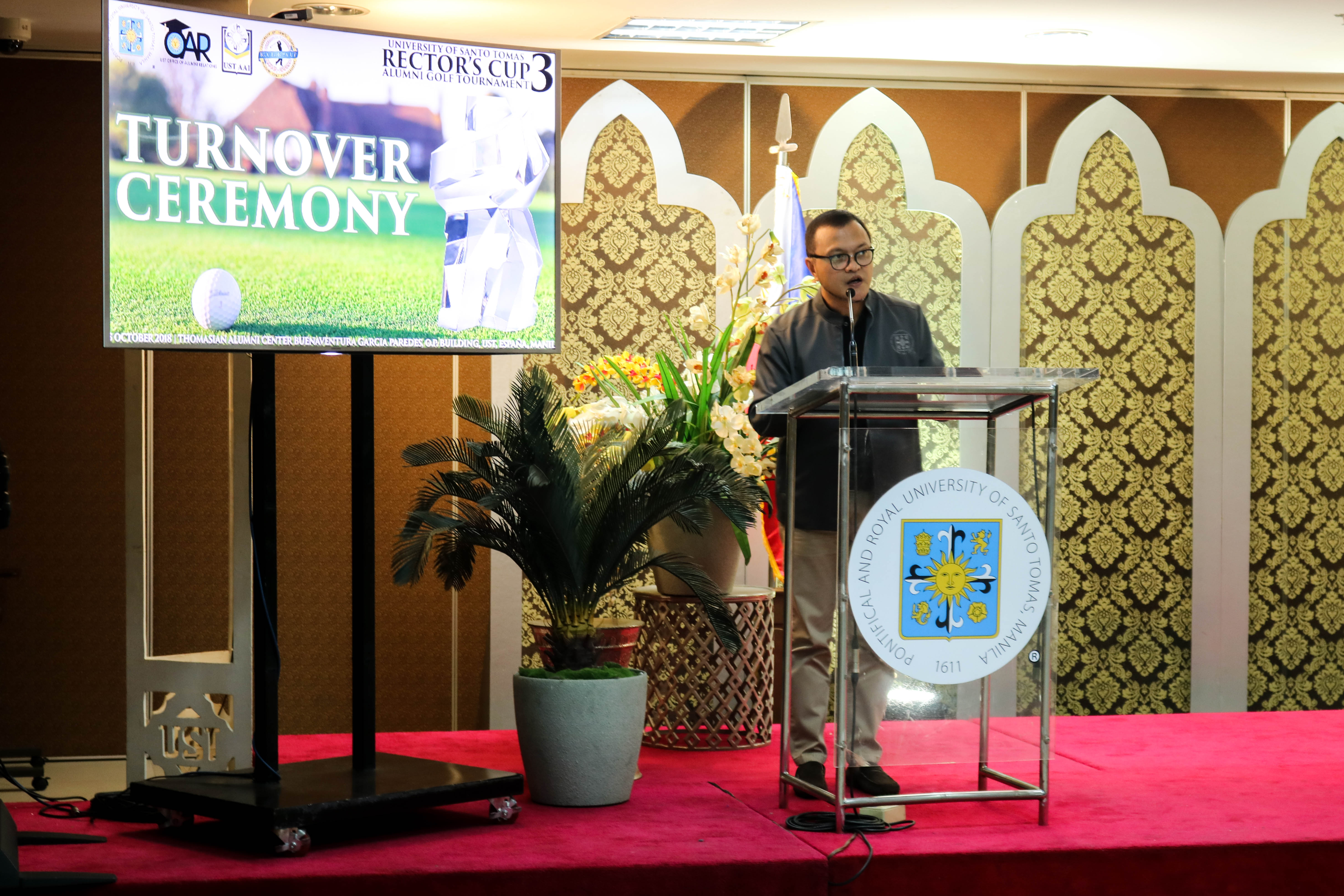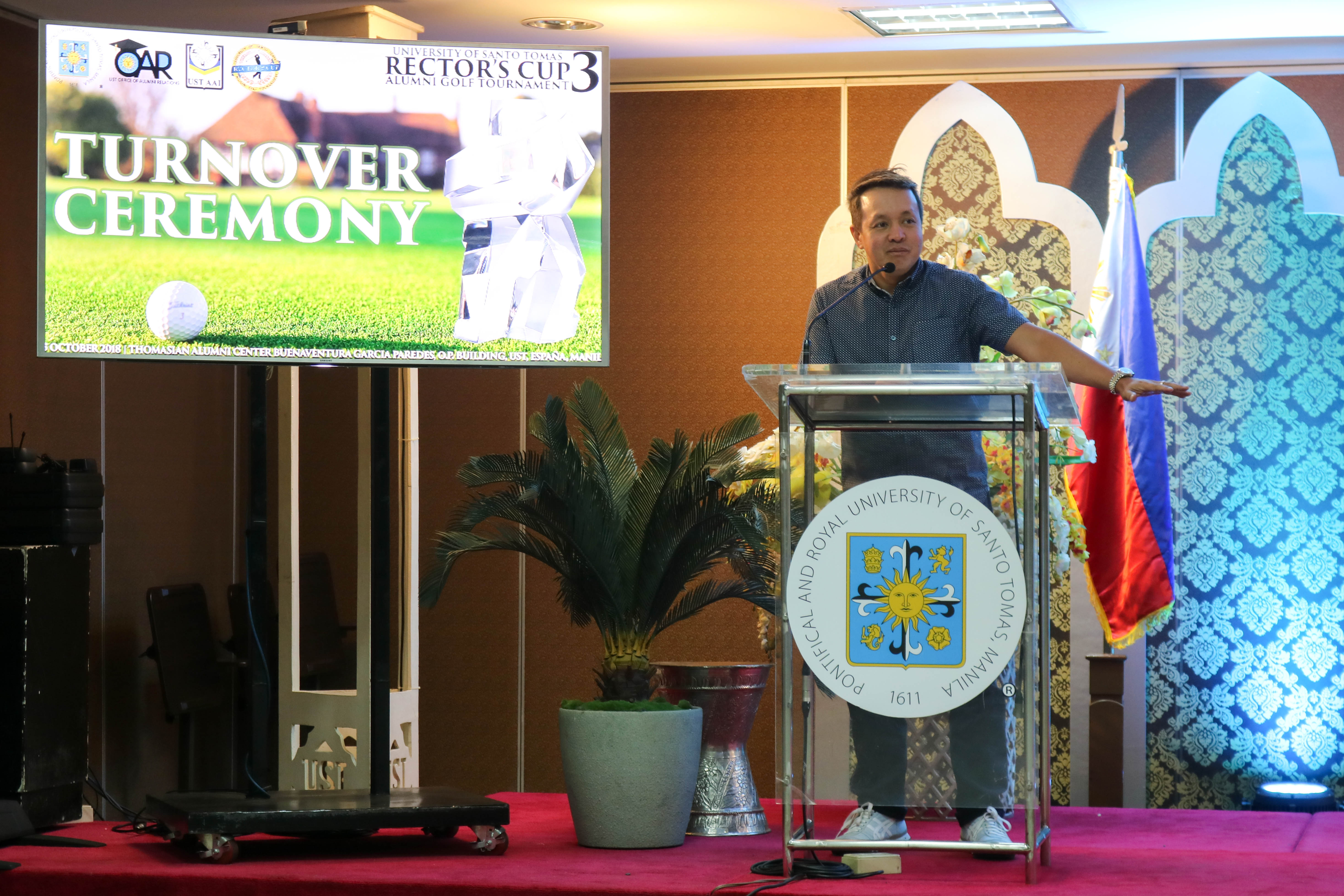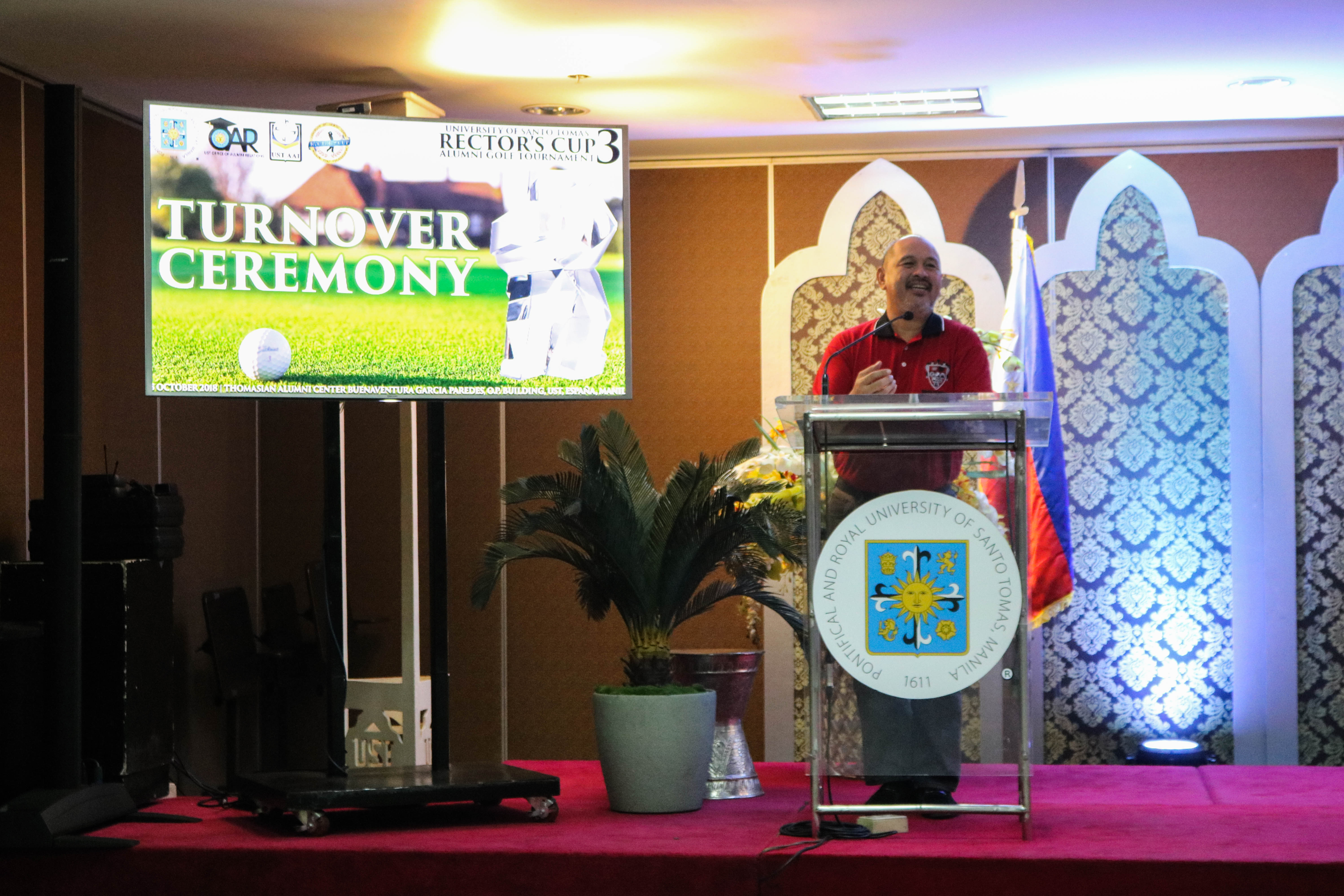 To formally welcome everyone in the fellowship, Mr. Medina delivered a speech addressing the student-athletes-complimenting their hard work, wishing for their victory in the upcoming UAAP (University Athletic Association of the Philippines) season and thanking them for the glory they consistently give to our beloved university.

Giving the audience a glimpse of the happenings in the recently concluded Rector's Cup III, an audiovisual presentation of the registration, the tournament proper and the fellowship was presented.
Shortly after, Dr. Laurel, gave his last speech as a tournament director-citing the history of the Rector's Cup, emphasizing the importance of sports as the alumni's connection to the university, and mentioning the exceptional generosity of the alumni when it comes to supporting the athletes.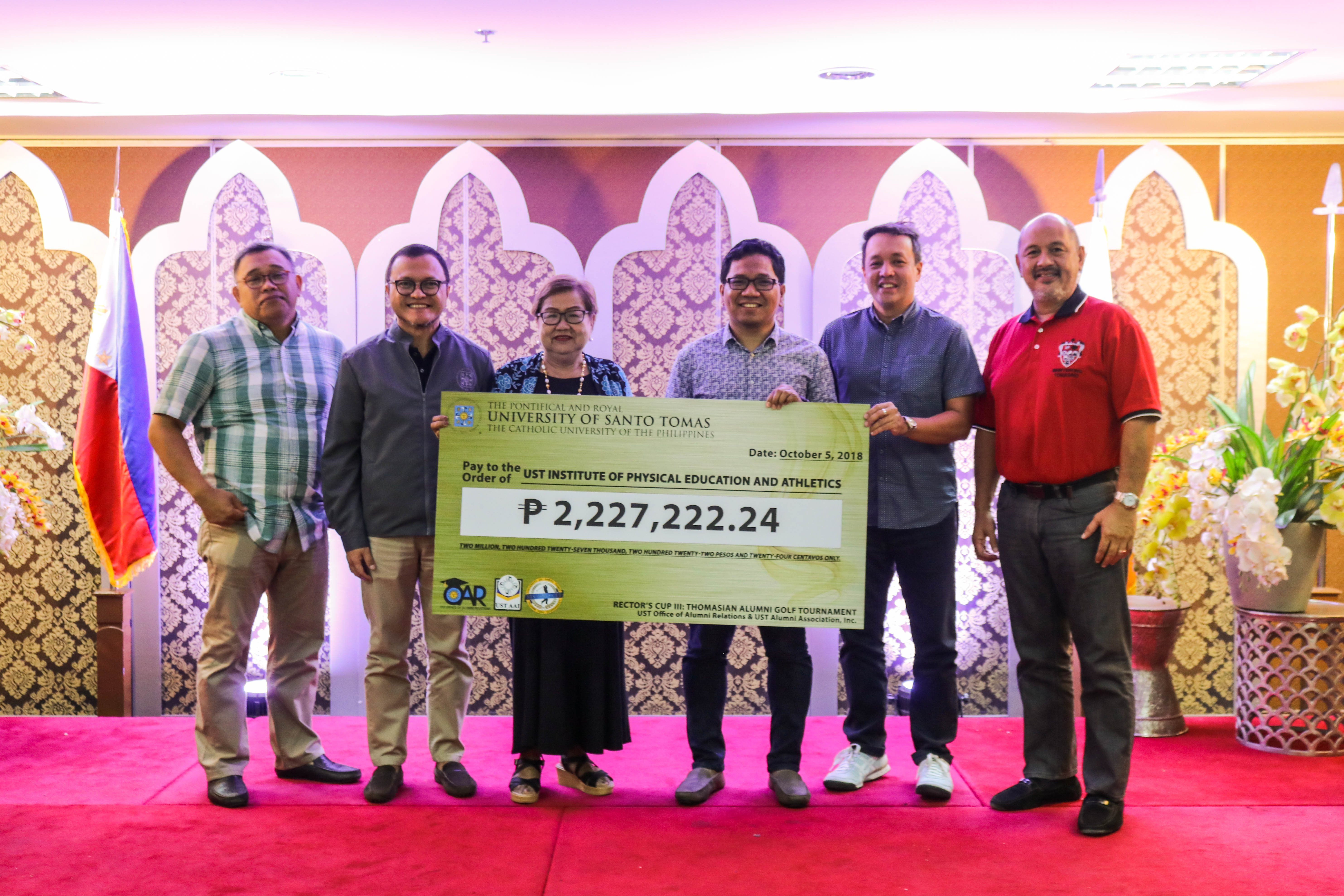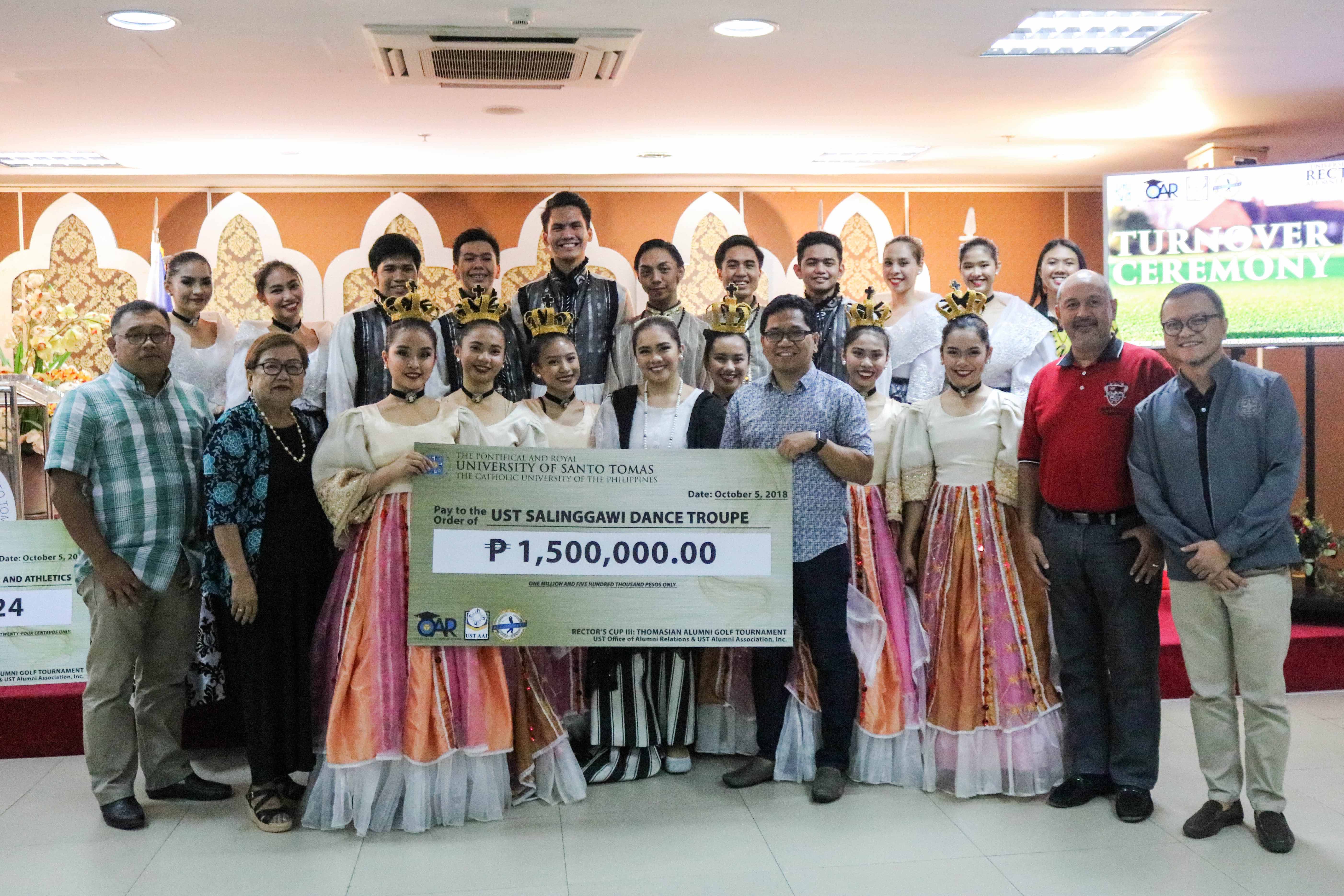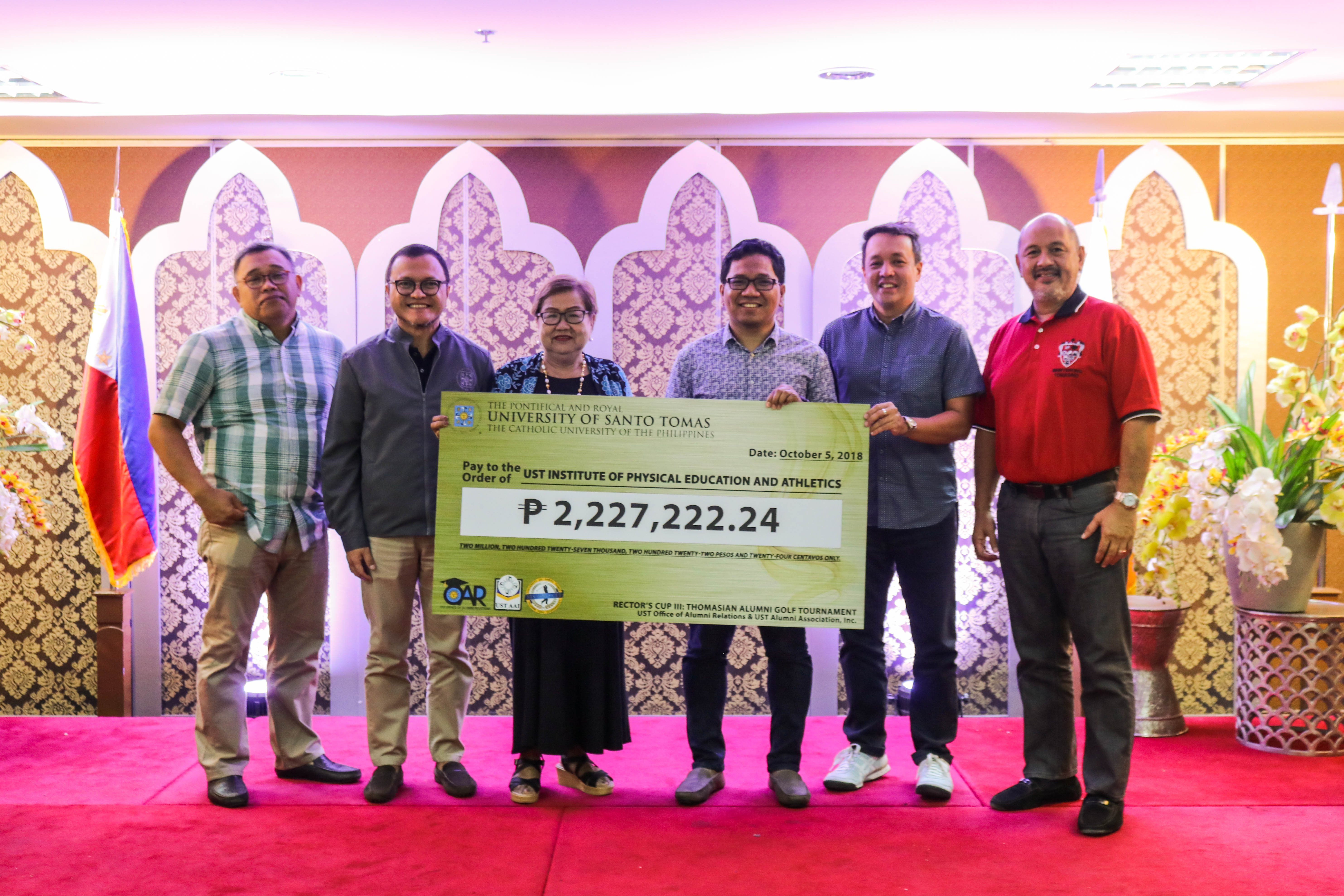 Succeeding Dr. Laurel was Engr. Fernando as he delivers his first directorial message to the athletes who he vehemently assured of the alumni's constant support; also stating that sports is a good avenue for the alumni to strengthen their camaraderie.

Awarding the cheques worth two million, two hundred twenty-seven thousand, two hundred twenty-two pesos and twenty-four centavos, and one million five and five hundred thousand pesos to the beneficiaries of the Rector's Cup, the athletes-represented by Fr. Abogado-and the Salinggawi Dance Troupe were Dr. Llarena, Mr. Medina, Dr. Meer, Dr. Laurel and Engr. Fernando.
Completing the program was an elegant performance from the Salinggawi Cultural Dance Troupe who entertained the guests as they finish their supper.