The UST Office of Alumni Relations rolled out a reconstructed Alumni Information System (AIS) website with new features to serve its stakeholders better during the COVID-19 pandemic.
"The goal behind this project is to encourage all Thomasian alumni to reconnect with the university through sharing relevant and updated information regarding their professional background and accomplishments," said the OAR Director Asst. Prof. Fredeswindo R. Medina, MACHs.
The AIS is a website where alumni could update its university records such as their married name, contact numbers, addresses, etc. It is a database that allows the university to keep track and determine the attainment of graduate outcomes after completion of degree from the institution. The extracted data has been utilized for the past international accreditation and licensing.
In 2019, OAR conducted a survey to all AIS registrants concerning the improvement of the website. Suggestions and comments from the alumni community were all taken to consideration by the office in upgrading the system. After a year of revisions and test runs, OAR with the assistance of Santo Tomas e-Service Providers (STePS) deployed the reconstructed website on soft launch to cater the Class of 2020. Two new modules respectively for announcements and online transactions were opened. The first module will let the alumni view interests-related announcements directly from their accounts posted by OAR. The latter mentioned module will direct the users to Thomasian Alumni Card applications and yearbook delivery service.
OAR aims to open the service to all batches by the start of the third quarter of 2021. This move will hopefully strengthen the community network and the number of registered alumni in the system.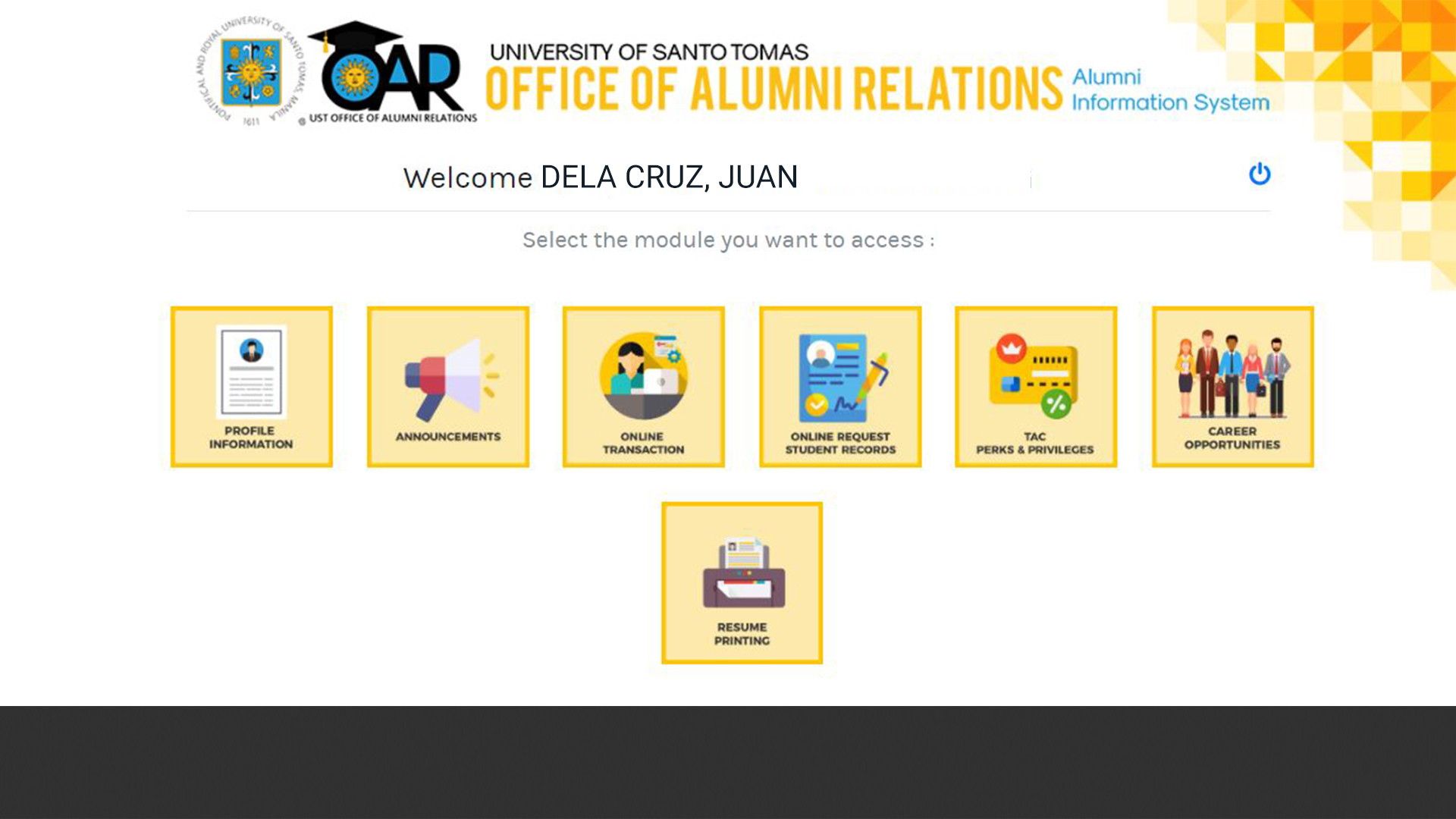 Upgraded gateway page of the Alumni Information System.
"All Thomasian alumni are highly encouraged to register and update their information in the Alumni Information System. This will give positive contributions to the programs and projects of the university particularly in tracking their alumni to properly recognize their achievements. This would also help in providing essential information on local and international accreditations that would maintain and even upgrade the status of the university as a premier and world-class Higher Educational Institution," stated by Asst. Prof. Medina as a call to his fellow alumni.
Currently, the class of 2000 to recent may register through the AIS website (
https://ais.ust.edu.ph

)
Older batches may register at
https://bit.ly/USTALUMNI
. Extracted data from the link will be manually verified by OAR and transferred to the system to be accessed by the registrant.