A total of 91 alumni were recognized during The 6th Distinguished Thomasian Alumni Night (TDTAN) by the UST Alumni Association, Inc. (USTAAI) in partnership with the Office of Alumni Relations (OAR) on November 27, 2021 via Zoom and FB Live.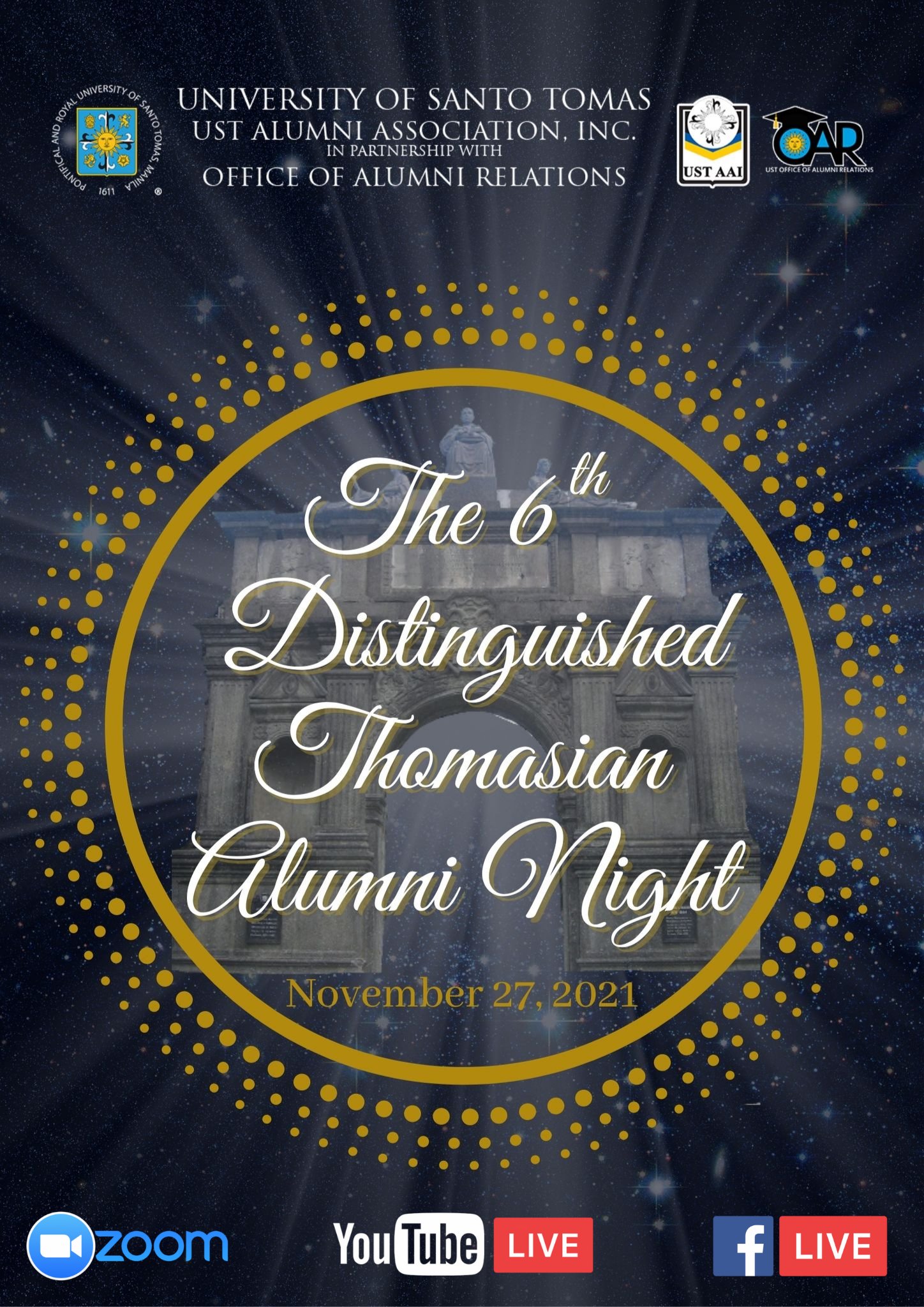 The event poster of TDTAN.
The alumni were individually awarded the DTAN token of recognition designed after the university's national cultural treasure, the Arch of the Centuries. It is inspired by the historic and distinct presence of the structure befitting the prominence and excellence of the honorees in their chosen field especially during these trying times.
"This is an authentic testimony of what makes Thomasian professionals a cut above the rest. No matter what the circumstances are, Thomasians continue to serve and walk the extra mile for society and for the nation," said UST Rector Very. Rev. Fr. Richard Ang, O.P. during his inspirational speech. He pointed out that one of the most important attributes that set the Thomasians apart from others is the values that they constantly adhere to in the practice of their profession which clearly shows whenever they deal with people in the highest standard that they set in every work they do. He gave the honorees his highest regards and congratulated them for their achievements.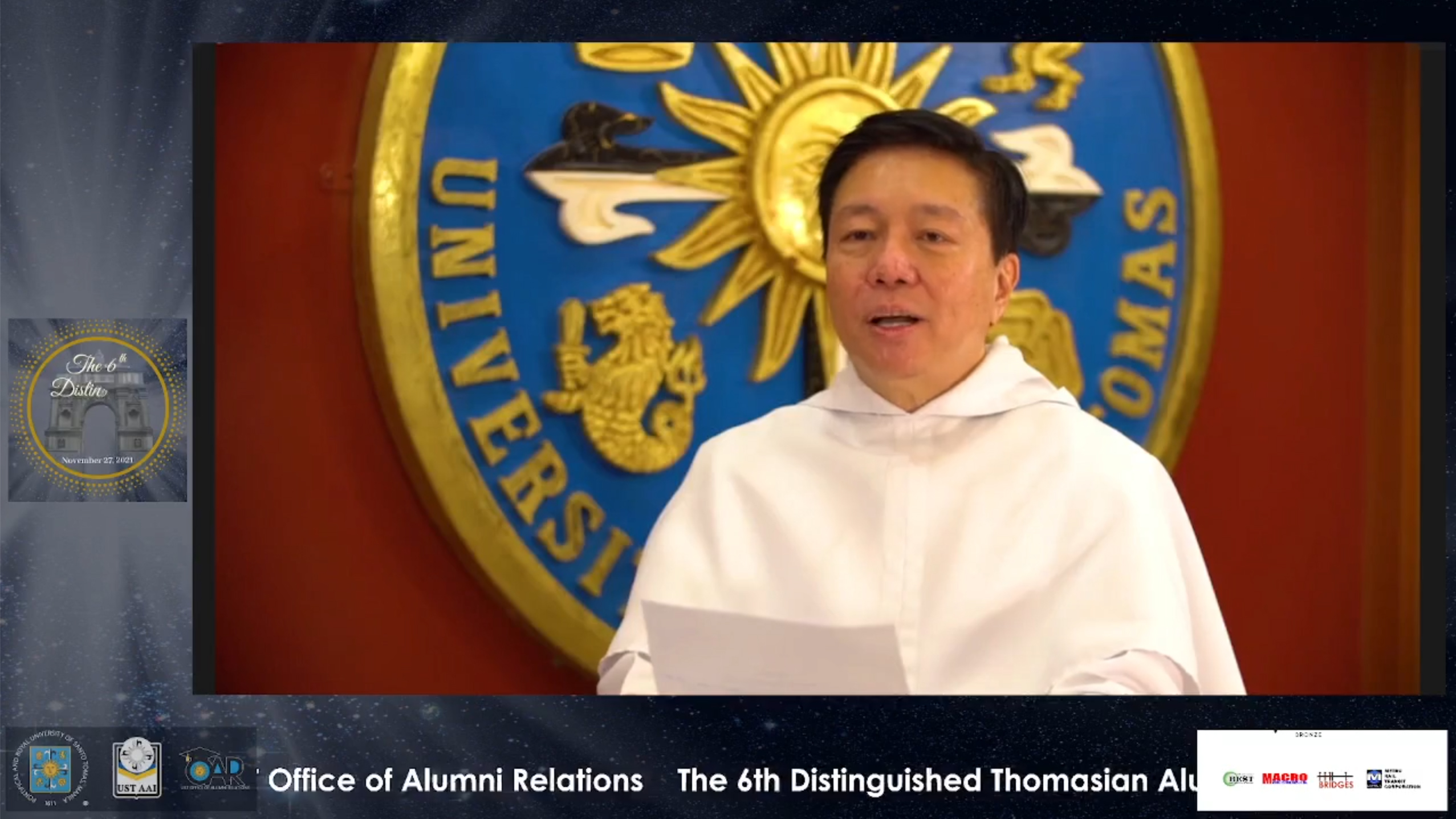 UST Rector Very Rev. Fr. Richard G. Ang, O.P. during his inspirational message.

The honorees were categorized by alumni association or chapter where they belong. Each participating association presented a maximum of five (5) alumni that were truly distinguished in his field, community, or the Church.
UST Alumni Priests' Association
His Eminence Jose F. Cardinal Advincula
Most Rev. Diosdado Talamayan
Most Rev. Osvaldo Padilla
Most Rev. Pedro R. Dean
Most Rev. Nereo Odchimar
UST Law Alumni Foundation Inc.
Justice Oscar C. Herrera, Jr.
Atty. Edward Jack C. Castaņeda
Atty. Lutgardo B. Barbo
Atty. Benedicta Du-Baladad
Sec. Luzverfeda "Baby" Pascual
UST Medical Alumni Association, Inc.
Dr. Angeles Tan Alora
Dr. Patricia Navarro
Dr. Antonio Say
Dr. Milagros Santos Lopez
Dr. Ramon Sin
UST Faculty of Pharmacy Alumni Association and Scholarship Foundation, Inc.
Celestina Carunungan-Ng
Rosalinda Ang-Hortaleza
Commissioner Aldrin Darilag
Dr. Martin Cruz
Carlo Ledesma
UST Philets and Artlets Alumni Association, Inc.
Oscar Picazo
Tita Datu-Puangco
Eyra Lourdes Umali
Herman "Brod Pete" Salvador
Julius Payawal-Fernandez
UST College of Education Alumni Foundation, Inc.
Clotilde N. Arcangel
Felicitas B. Pantoja
Felicitas R. Francisco
Nimfa Daileg-Ekong
Juana L. Abello
UST High School Alumni Alliance Foundation, Inc.
Jamie Rivera
Edwin Santiago
Atty. Milagros Isabel Cristobal
Dr. Minerva Calimag
Eric Anthony Pineda
UST College of Architecture Alumni Association, Inc.
Ar. Catherine B. Carunungan
Ar. Norma I. Alarcon
Ar. Ma. Rebecca M. Peņafiel
Ar. Ramon S. Mendoza
Ar. Wilson B. Deomampo
UST Graduate School Alumni and Grants Association, Inc.
Karen Katrina V. Trinidad
Rev. Fr. Rolando S. Dela Goza, C.M.
Prof. Aleth Therese L. Dacanay
Cielo R. Macapagal-Salgado
Estrella De Leon
UST Conservatory of Music Alumni Association, Inc.
Assoc. Prof. Herminigildo Ranera, Ph.D.
Prof. Gloria Dizon Coronel
Rene Dalandan
UST Nursing Alumni Association, Inc.
Dr. Amelia Buencamino Rosales
Dean Clarita Curato
Sr. Agnetia Naval, SFIC
Rev. Fr. Julius Paul Factora, OP, RN, JCD
Dr. Charito Consolacion
UST Education High School Graduates' Association
Manuel S. Salumbides
Federico N. Nartates Jr.
Arturo G. Gungon
Emmanuel German V. Plan II
John M. Simon
UST College of Rehabilitation Sciences Alumni Association, Inc.
Dr. Joel H. Buenaventura
Atty. Howard M. Calleja
Dr. Nilo C. De Los Santos
Asst. Prof. Karen S. Ongtangco, MRS, MSOT
Victor Lee Wu
UST Atelier Alumni Association, Inc.
Roderick Macutay
Justino Suntay Nuyda
Nemesio Miranda
Jesus Flores
Remy Boquiren
UST Thomasian Alumni Leaders Association
Harry G. Uy
Prof. Clarence M. Batanm PhD
Dr. Walter Randolph C. Jalgalado
Xialeemar T. Valdeavilla
Dr. Joseph Rylan G. Flores
UST PMT / CAT Alumni Association
CEO Alfredo E. Pascual
PMGEN Franklin S. Alfabeto
PBEN Noel V. Manabat
Dr. Jose Fernando Syquia
Dr. Erwin P. Erfe
Tomasinong Bikolano
Eriberta B. Nepomuceno
Jose Antonio A. Amparado
Msgr. Francisco Monje
Tomasinong Kapampangan
Dr. Miguela Santiago
Rodolfo S. Olaso
Edgardo F. Garcia
Atty. Edgardo D. Pamintuan
Dr. Bernadette D. David-Aguilar
Tomasinong SOCCSKSARGEN
Dr. Sergio Ramos Demontaņo, Jr.
Engr. Arturo B. Uy
UST Golden Cross and Saber Alumni Association, Inc.
Atty. Andrew James S. Ibarra
Benjamin Joseph E. Velarde
Allan M. Sison
The live segment of TDTAN attended by honorees via Zoom.

TDTAN was founded by the then USTAAI President Dr. Robert C. Sy during the Rectorship of Rev. Fr. Rolando de la Rosa, O.P. in 2009 to gather all prominent graduates and associate alumni of the university to drumbeat the Quadricentennial celebration in 2011. The success of the event has motivated the associations to continue commemorating its alumni every year to showcase them to younger generations of Thomasians to be their inspiration and role models.